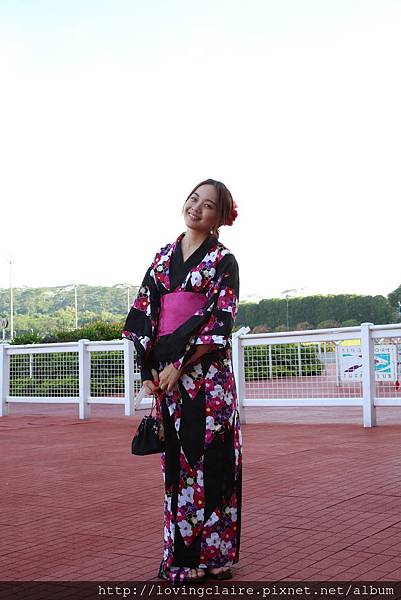 Special thanks to Singapore turf club,YukataHouse, tasteofeverything
It was funny when I got the invitation, I didn't really have any clues of how it can be possible to wear yukata watching horse racing. Since I have never worn a yukata, probably would never in the future, I decided to give it a try. So the night before the event, I went to my friend's house to try on the yukata. We watched the video while trying on. It took us sometimes to figure out the threads and foldings. But once we tried, we became very adapted to how to wear it. For beginners, it will take about 20 minutes, but for third-timer, probably 10 minutes. And this time calculation is based on the help of the other person. Self wearing might take longer time.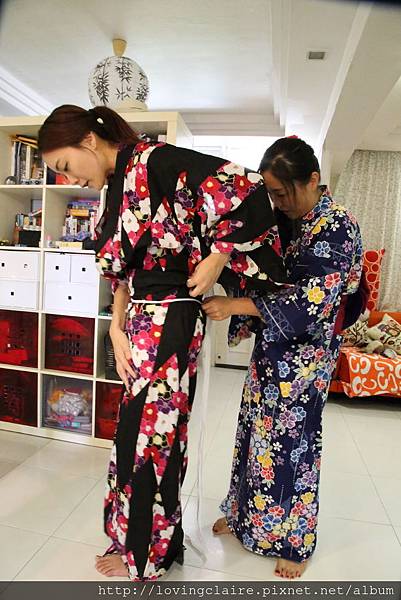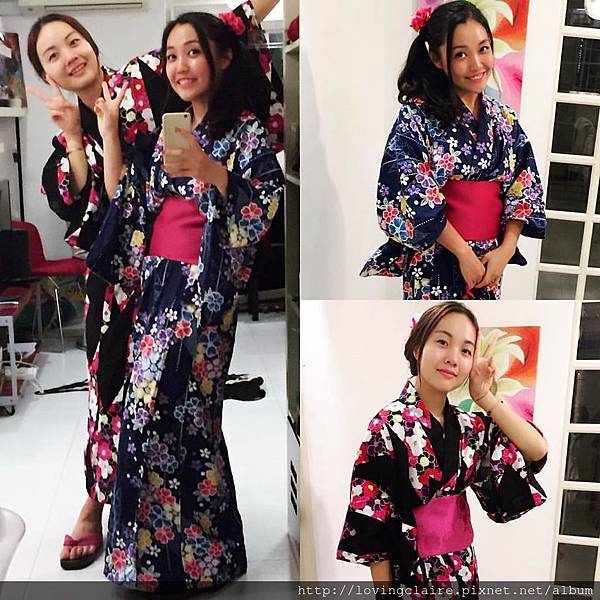 The yukata we received were very beautiful. Mine was a black base with light dark pink and white flowers. Ting was with dark blue base and yellow, purple, blue pink flowers. Her yukata is more light and bright, which makes the person look lively and young. Mine was more "serious" and "heavy", well it suits me, because I like to consider to be serious and mature.
We arrived the turf club near Kranji, the turf club used to be at Bukit Timah. It was founded in 1842 as the Singapore Sporting Club to operate the Serangoon Road Race Course at Farrer Park and it is the only horse racing club in Singapore. In 1999, it relocated near Kranji MRT Station.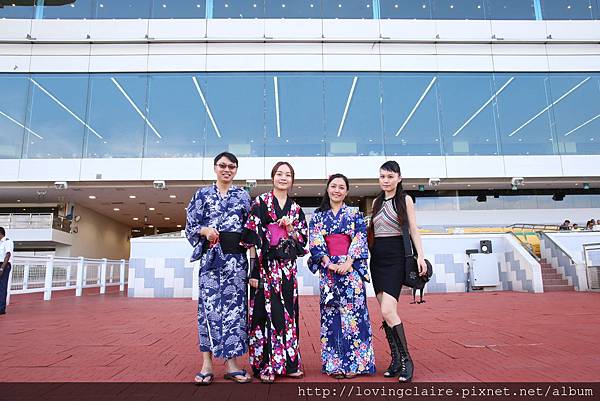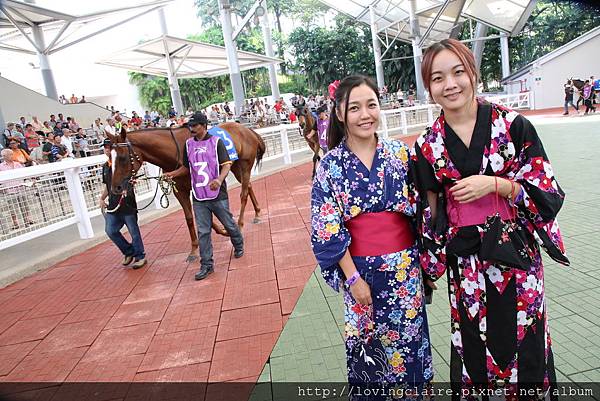 Walking with the wooden clogs is making our steps very tiny, no wonder in those ancient movies Japanese women look and walk elegantly. I took my steps quite carefully because of my knee injuries. I also tried to sit down as much in between standing and taking pictures.
The Sakura day event at turf club is in celebration with the annual Japanese theme, alongside with the Panasonic Kanji Mile race. The foods offered from sushi, miso soup and other Japanese cuisines at the top self. We were inside the the room with big glass windows to see the horse racing. There's also a small screen on the table for us to see the entire race. I have never bet on horse racing since gambling is never my thing.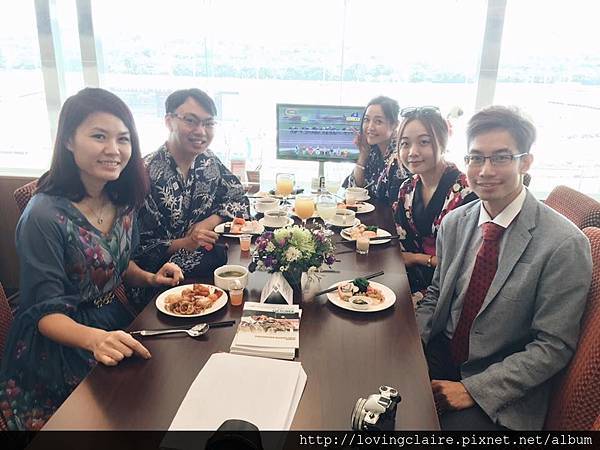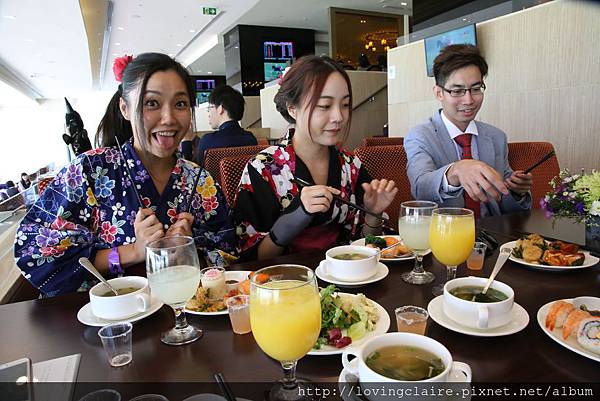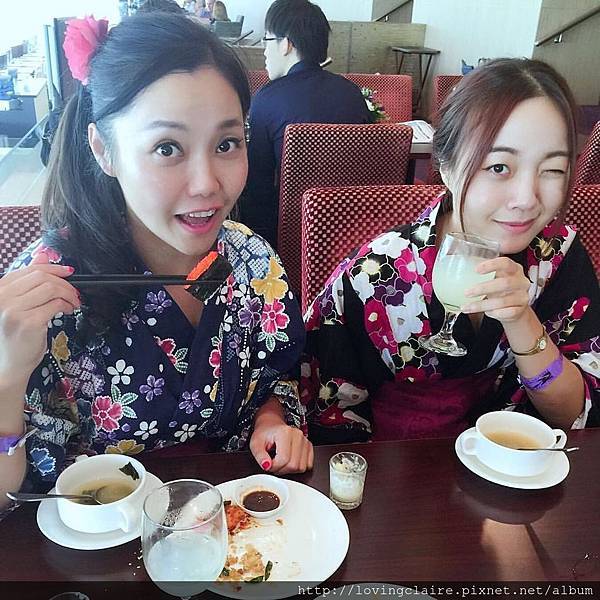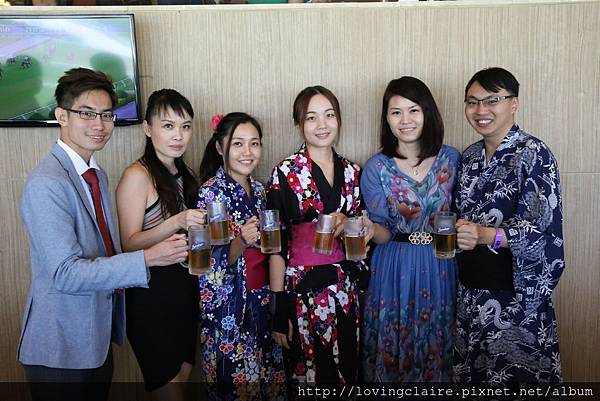 I have never tried horse riding but it's thrilled to see jockey riding horses. They don't sit on the horse, they were just doing something like 3/4 squat on the horse, with their bums lift off the horse back. It's similar to the horse riding on the ladder barrel (its a pilates equipment with big arc and ladder). They must have very strong inner thighs to hold in that position. Most of jockeys are not so tall, around my height 165-170cm, and they are slim, around 55-60kg. This feature enables them to ride fast on the horse.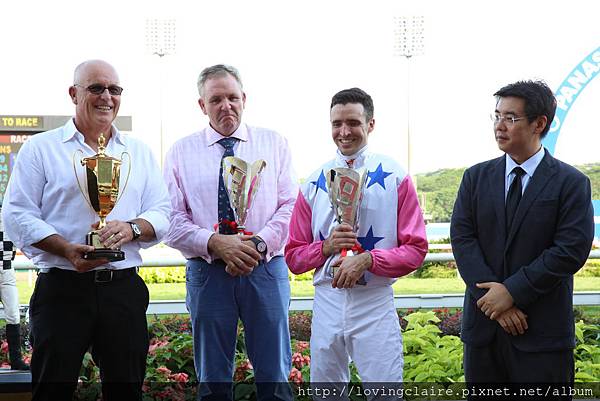 We were invited outside to see the race course. I was stunned by the size of the whole race course. It was maintained really well with the green lush grasses and red sand. The closest we could get to the horse is when the guy took the horse to walk around. The horses have side blinders and most of them are brown or black breeds. A few are white, which is not so common, and they even have female riders on. I couldn't help looking back at the riders. It is not so common for females to be jockeys in that most females only take horse riding as a hobby.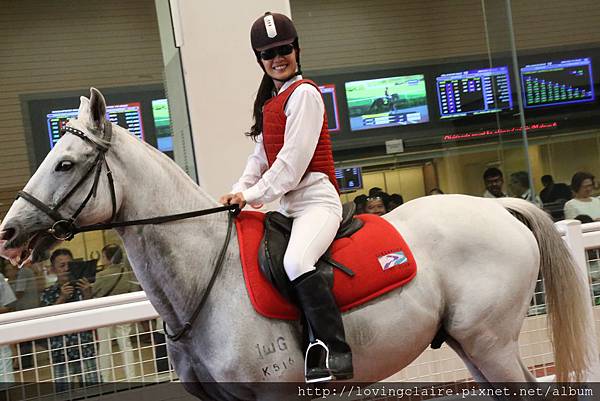 Hopefully soon I can take off my yukata, and just ride the horse with the others, with warm breeze kissing my face. Couple hours drenched in the sun was good but maybe too much in the sunny Singapore. I realized that maybe being a Japanese is too difficult and taking a lot of efforts, but one day would be just perfect.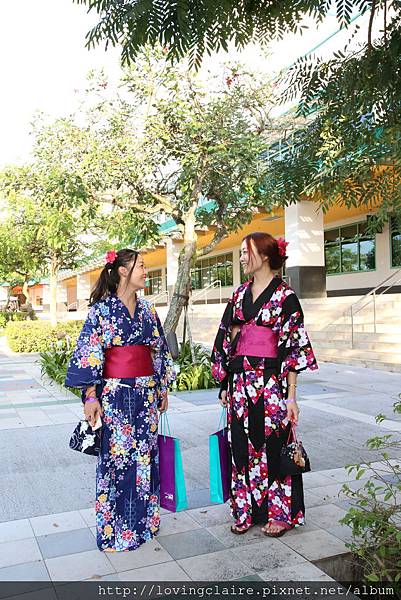 Thanks again for the sponsors. More information about the events, please see
Singapore Turf Club http://www.turfclub.com.sg/Pages/Homepage.aspx
YukataHouse http://yukatahouse.blogspot.sg
Taste Of Everything http://tasteofeverything.asia/
Follow me on Facebook https://www.facebook.com/divabalancing/?fref=ts